The Japanese apocalyptic vision: Beyond the atomic bomb (part 2)
Posted April 21st, 2009 at 09:46 AM by
SeannyB
---
(
CONT'D FROM
) (
Original version
)
Disclaimer: the rest of this article may contain heavy amounts of gaijin speculation.
One only needs to look as far back as the
Empire of Japan
that existed up to WWII. During that time, the forces of military propaganda and mass media created a feedback loop of nationalism, twisting societal aspects like giri into a military machine that blazed through Korea, China, Russia, and other parts of the Asia-Pacific before its inevitable collapse (
more reading on the subject
). Even as destruction seemed all but inevitable during the last days before the atomic bomb, Japanese individuals were helpless against the war machine that forced them into kamikaze missions and other futile acts of desperation. The machine would've continued down to the last man.
When the war came to a close, major cities such as Tokyo (not just Nagasaki and Hiroshima) were already flattened by an unprecedented bombing campaign. In yet another binge of "catching up to the west", Japanese cities experienced a period of rapid reconstruction which transformed its ruins into
haphazard
, endlessly sprawling metropolises. The corrupt ties between the construction industry and the Japanese government continue to this day, perpetuating
meaningless construction projects
. Eventually the period of rapid post-war economic growth came to an inevitable
implosion
, and the Japanese economy has been in a deep recession ever since. Workers who pledged themselves to conglomerates (in yet another giri-like relationship which was similarly detrimental to their families) suddenly found themselves cast off, much like
Americans who have lost their pensions
in the past decade.
With so many giri-based systems that have collapsed spectacularly in Japanese history, it's no wonder that these dreadful themes are so often found in Japanese fiction. When faced with a large-scale crisis, characters will often remark on their sudden change of perspective, as if everything in the past was an illusion; as if they've just woken up from a dream; as if everything beforehand was a wasted effort. Of course this emotion parallels the reactions people have to real earth-shattering events (like 9/11 for an example closer to home). Characters will often wonder where exactly their civilization is headed. The first two Patlabor movies for instance meditate on this subject and the themes of being snapped out of a mass illusion in the face of a crisis. Patlabor (1) in particular features a massive Tokyo land expansion project which eventually ends up threatening the city with total annihilation. By dealing with the crisis, the characters in the film are forced to reflect upon the waste and emptiness of urban development. In this way, the film deliberately personifies urban construction as a headless monster.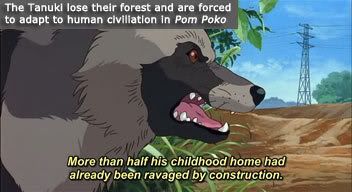 In
Pom Poko
, mythological creatures find themselves unable to cope with Japan's rapidly changing post-war landscape as their forests are cut down. Rather than deliver a ham-fisted environmentalist message like other films with this basic premise, the creatures ultimately fail in their efforts to stand in the way of human civilization, and instead settle on finding ways to survive in the new urban landscape. They recall with bitter nostalgia the forest they lost under the unstoppable force of urban development. However, life for them must go on in the face of drastic change.
One of the more incredible apocalyptic visions comes from a surreal cyberpunk comic series called BLAME!. A futuristic city with a fully automated infrastructure was created, but the access code known as the "net terminal gene" was somehow lost. The city, without instruction, continued to grow with the aid of its construction robots. Flash forward to an unspecified amount of time into the future (tens of thousands at least), the city, using dark matter as raw building material, has evolved into a megastructure encompassing the extents of the solar system. So much time has passed and so much data has been lost that "Earth" has been forgotten. Sparse bands of genetically modified humans (some less human than others) fight for territory within the vast structure, but without the net terminal access code, it is nothing more than a futile exercise.
BLAME! manifests the subtle horror of a modern Japanese metropolis in this way– the anxiety of being at the mercy of the headless, arbitrary force of human civilization; something far beyond anybody's power to change. The protagonist of BLAME! wanders the endless, twisted and lonely expanses of the megastructure. He occasionally encounters mindless construction robots whacking together more meaningless structures. He has been searching for a countless number of years in vain for the net terminal gene; however, it is hinted that he is simply fulfilling his duty as an agent from a pre-megastructure Earth. There is a sense in general that everything in BLAME! was set into motion from a forgotten time.
The Japanese apocalypse is distinct from those portrayed in American fiction in more ways than plain old atomic horror. While we may fear the potential horrors of global warming, asteroids,
skynet
,
mutually assured destruction
, and genetically engineered monsters and diseases upon our freedoms and status quo, the Japanese apocalyptic vision seems to be based heavily on their recurring history of societal collapse and reconstruction, and the highly ambiguous direction of their present. In a sense, it is mono no aware applied on the most epic of scales.
Comments
Trackbacks